Vietnam cement market: Sales growth to lose momentum in 4M2019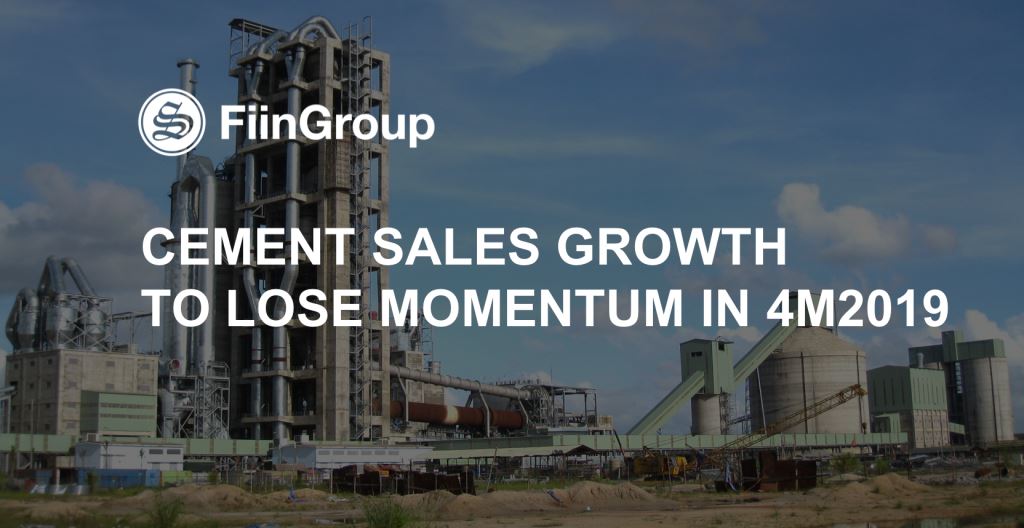 After the record high of 16.4 percent in 2018, clinker and cement sales contracted by 0.5 percent in 4M2019 due to the slowdown in domestic market as well as exports.
Figure 1: Clinker and cement sales growth, Y-o-Y
According to FiinGroup's Vietnam Cement Market Report 2019, total clinker and cement sales volume reached a high record in 2018 at 93.5mn tons, driven by robust exports. Particularly, cement & clinker export volume recorded a Y-o-Y surge by 45.5 percent to reach 28.6mn tons in 2018, which could be explained by rising demand from Chinese traders. By the end of 2017, Chinese Government has implemented an unprecedented pollution crackdown by shutting down steel and cement factories in the effort to address China's infamous pollution, affecting 10.0 percent cement production capacity in this country. Despite the supply surplus situation on national scale, there is a certain temporary shortage in some border provinces near Vietnam. The clinker price in the coastal regions is 440 yuan per ton (or US$66 per ton), compared to the average export volume of US$38.8 per ton in Vietnam. The high price stimulated the traders to increase import clinker from Vietnam to meet the demand in the China coastal regions. Meanwhile, Vietnamese domestic market improved significantly with solid growth of 7.0 percent in 2018. The market was supported by the improved real estate market (including residential, industrial and hospitality real estate) and optimistic construction market.
In the first four months of 2019, cement sales growth lost momentum. Domestic sales were down 2.5 percent to 20.4mn tons while exports inclined by 3.7 percent to reach 10.3mn tons for 4M2019. Average export price remained high with clinker FOB price of US$39.4 per ton at Cam Pha port as of April 2019. Given the decreasing clinker demand from China, FiinGroup foresees a decline in clinker export volume and average price in the next quarter of the year.
Local private manufacturers have been aggressively developing new cement facilities while foreign-owned players are strengthening their position after M&A activities.
Figure 2: Projected cement designed capacity in Vietnam, mn tons p.a.
According to FiinGroup's database, designed capacity of Vietnam cement industry is expected to surge thanks to the aggressive expansion of local private players including Thanh Thang, Vissai, ThaiGroup (previously Xuan Thanh) and Long Son. It is noted that most of the new facilities are located in the Central where demand is relatively low compared to the North and the South. It appears that these players are targeting export markets.
Meanwhile, foreign investors are strengthening their position with sales campaign and new products. For instance, in May 2019, Siam Cement Group (SCG) has recently launched its SCG Super Cement brand to customers in central Vietnam.
FiinGroup expects Vietnam cement market would reach the equilibrium in 2028.
Based on FiinGroup's analysis of macroeconomics and historical cement demand from 2000, demand growth for cement is projected at a growth rate of 5 percent until 2030. Vietnam is expected to face with continuous supply surplus before reaching the equilibrium in 2028. Even though Vietnam cement still moves in tandem with real estate boom and bust, this industry is still expected to enjoy healthy growth in years to come.
Figure 3: Projected cement demand and supply in Vietnam, mn tons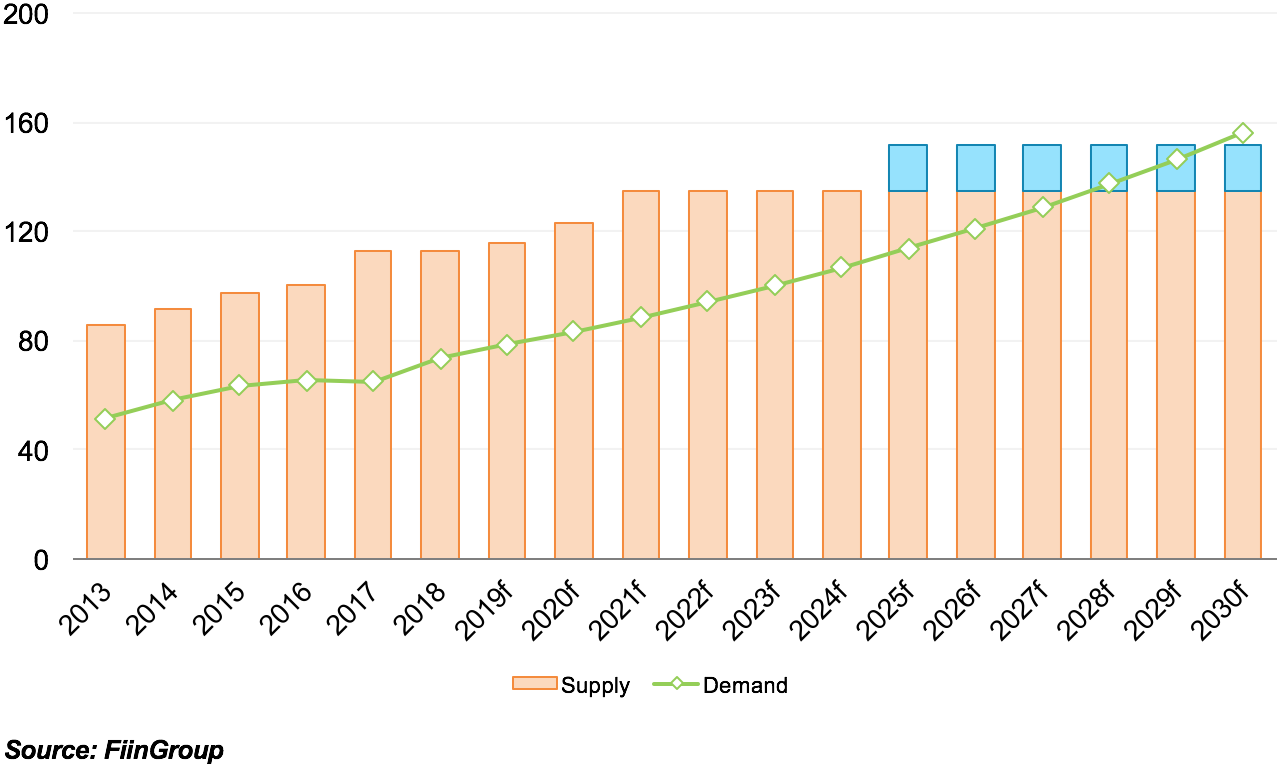 This article is based on FiinGroup's market research report "Vietnam Cement Market 2019". You can find more information in our comprehensive report, featuring the most up-to-date information on cement market situation in Vietnam.

Should you require any further information or assistance, our client advisors will help you find what you need.
Tuyet Nguyen
Manager, Client Advisor
T:  +84 28 3933 3585 (ext.: 208)
Trang Le 
Executive, Client Advisor
T:  +84 24 3562 6962 (ext.: 103)
E:  trang.lenguyen@fiingroup.vn
Source: FiinGroup