Vietnam Consumer Finance Customer Survey 2019: Catering to more sophisticated customers

The Consumer Finance market has witnessed significant credit growth of 59% annually over the period of 2014-2018. The last year has been particularly eventful, with at least four new entrants to the market (VietCredit, EasyCredit, Lotte Finance, SHB Finance), putting pressure on the market shares of the Big Four (FE Credit, Home Credit, HD Saison and Prudential Finance). Overall, interests from domestic and abroad have heightened significantly.
FiinGroup has carried out surveys on consumers of consumer finance products since 2016 to monitor the consumer sentiment and FinCos' performance from the views of the customers. This year, we conducted 350 random interviews and 650 in-depth interviews, getting respondents' feedback on each factor of customer awareness and satisfaction, while utilizing our historical survey data in order to better reflect the changing trend in customers' behavior including awareness, perception, and satisfaction. Some of the key findings from our survey are illustrated below:
MARKETING CHANNELS 
Figure 1: How did you hear about the consumer finance​ companies above and their services?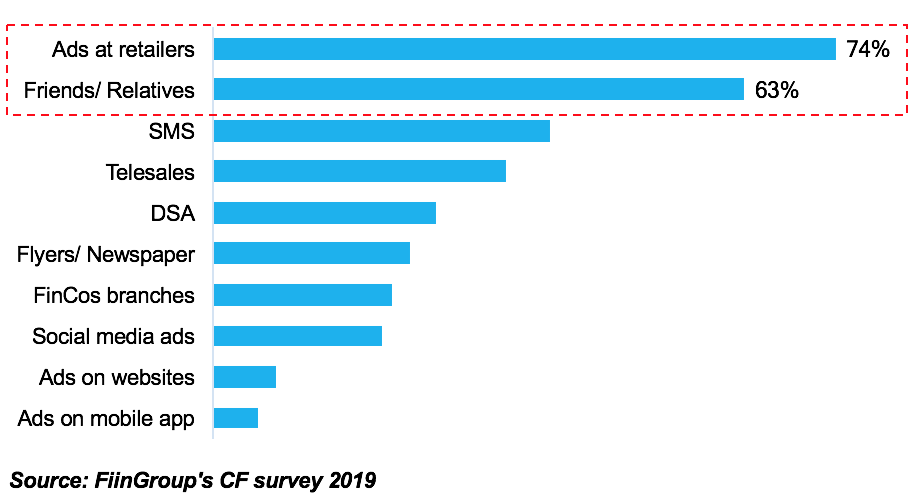 Advertisement at retailers outperformed Friends and Relatives' word-of-mouth, becoming the most popular channels used to learn about consumer finance products.
Traditionally preferred channel like Direct Sales Agents (DSA) is gradually being replaced. Only 27% of people surveyed learned about consumer finance via agents.
FINANCING SOURCES 
Figure 2: For each loan purpose, choose one financing source that you would prefer the most?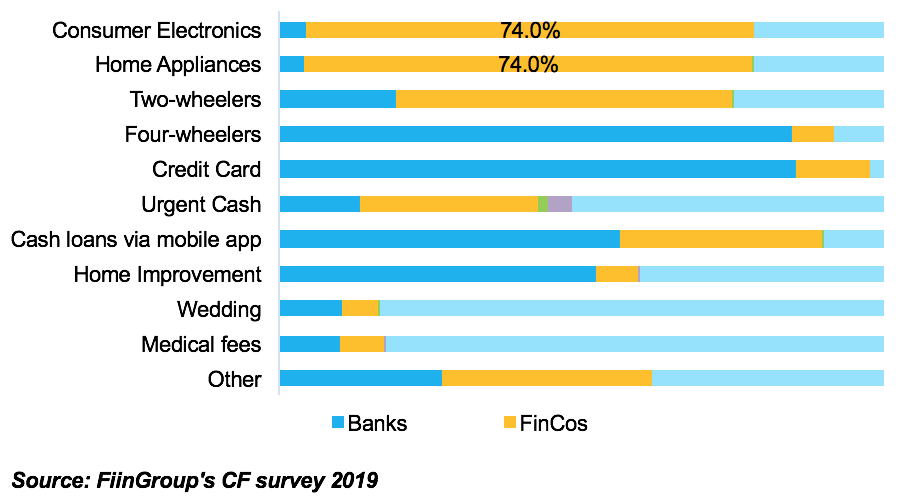 Consumer electronics & home appliances are the most popular consumer finance products, as 74% of customers first think of FinCos when buying consumer electronics & home appliances.
FinCos are now a consideration for customers' funding needs, especially for cash loans, with nearly 30% of surveyed customers would borrow from FinCos for cash loan in 2019, tripling the figure recorded in 2017.
IMPRESSION MATTERS 
With the advantage of the parent bank's reputation, "Trust FinCos under Banks" are among top 3 reasons why consumers decided to borrow from FinCos, along with "Meet immediate demand" and "Split expenditure".
Figure 3: What are your reasons for using that consumer finance product (which you have heard or are familiar with)?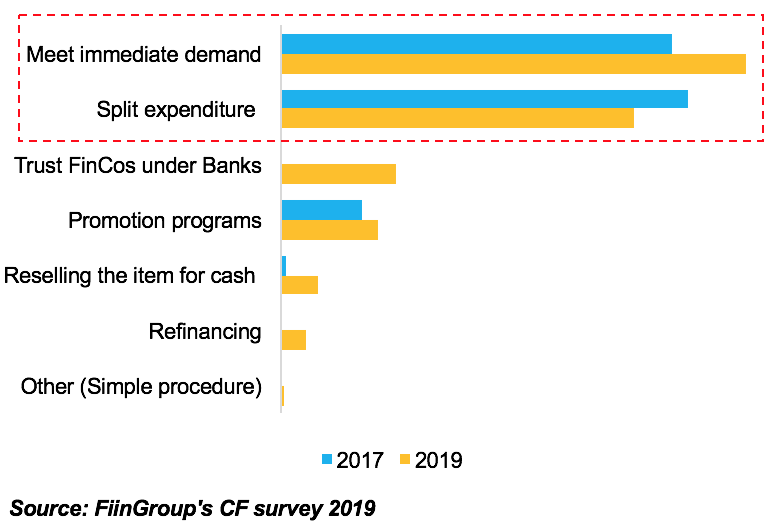 DECISION MOMENT: 
Figure 4: When did you make the borrowing decision, 2019                    Figure 5: When did you make the borrowing decision, 2017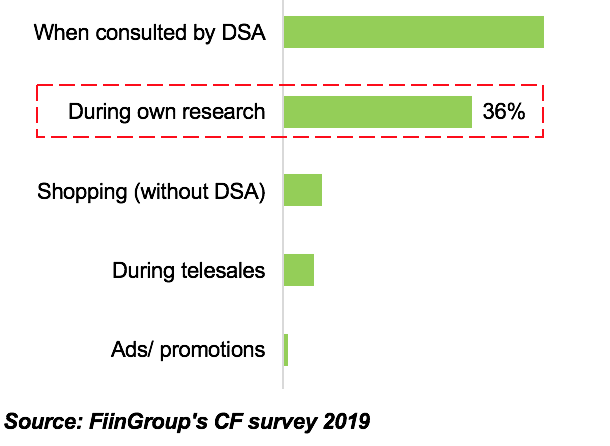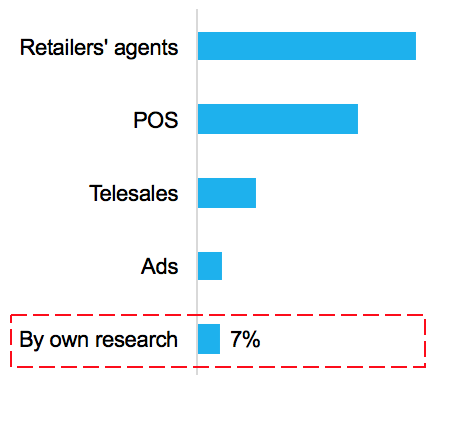 DSA remains the most effective channel as 50% of surveyed customers decided to use consumer finance products after being consulted by Direct Sales Agents.
Besides being consulted by Direct Sales Agents, customers now prefer to conduct research by their own, making "By own research" from ranking the last position in 2017 to the second position in 2019.
CUSTOMERS' SATISFACTION 
Figure 6: Customer Satisfaction, 1- Very Dissatisfied to 5- Very Satisfied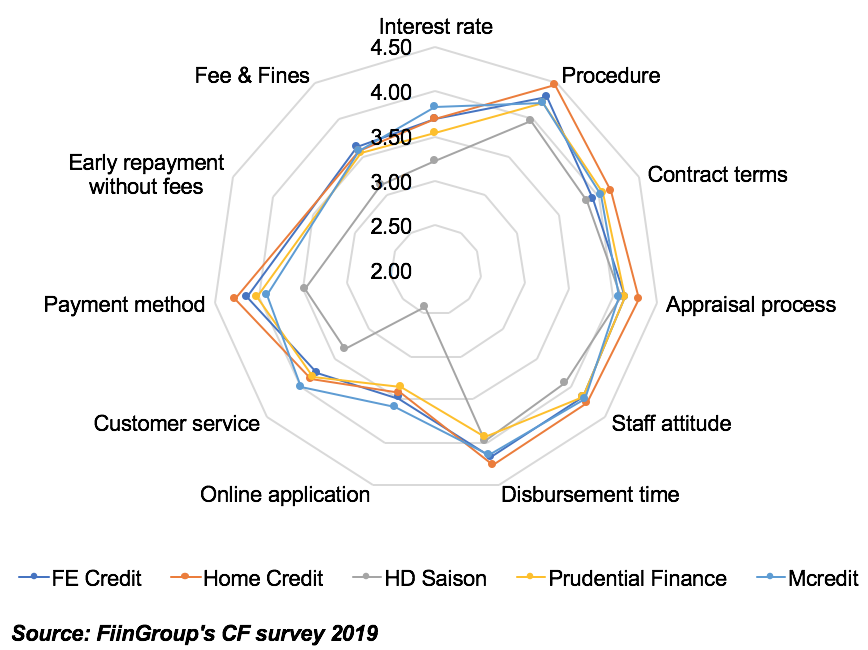 Note: we only selected companies with sample customer size of at least 50 people for meaningful analysis, thus other FinCos with existing customers fewer than 50 were not included in this comparison.
Customers are generally satisfied with their consumer finance experience. Over 80% of our respondents who have used consumer finance products would use consumer finance again and would recommend to friends and family. 40% of our respondents rated their experience with the procedure as "very satisfied".
This analysis is based on our Consumer Finance Consumer Survey 2019 with a total sample of 1,000 respondents in three major cities in Vietnam: Hanoi, Ho Chi Minh City, and Da Nang. For each individual question, we may add relevant criteria. To gain more insights about changes in customers' behaviors as well as other in-depth findings and rankings from our Consumer Finance Customer Survey 2019, please access here 

Should you require any further information or assistance, our client advisors will help you find what you need.
Trang Le 
Executive, Client Advisor
T:  +84 24 3562 6962 (ext.: 103)
E:  trang.lenguyen@fiingroup.vn
Source: FiinGroup