FiinResearch: Vietnam Cement market witnessed significantly reduced growth in 2019 and continue being hit by COVID-19 in the first half of 2020
09 April 2020 - 04:21 PM
Figure 1: Clinker and cement sales volume growth, Y-o-Y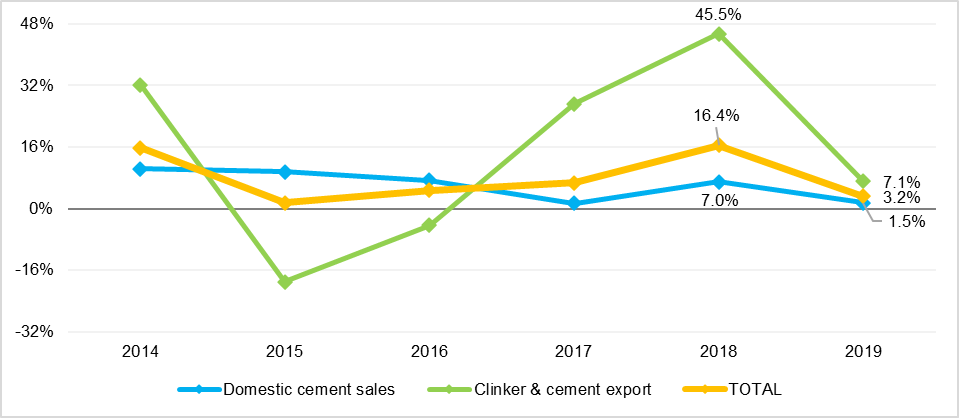 Source: FiinResearch, Vietnam Cement Market Report 2020
According to FiinResearch's Vietnam Cement Market Report 2020, total clinker and cement sales volume reached 96.5mn tons, posting slowdown with y-o-y growth rate of only 3.2% in 2019. The reduced momentum of Vietnam cement industry could be explained by the downward trend in both domestic market and export activities. Specifically, domestic cement sales volume edged up only 1.5% in 2019, much lower than the corresponding figure of 7.0% of the previous year. This results from the slow disbursement of government expenditure for infrastructure projects, strict regulations on financing sources for real estate developments, slow licensing process for new property projects and the slowdown of major real estate sector, especially for residential and hospitality segments.
The growth of clinker & cement export volume also slowed down significantly to 7.1% in 2019, much lower than the corresponding figure of 45.5% in the previous year. This is due to the slump in clinker volume purchased by some large buyers such as those from Bangladesh. The main reason is that the average export price from Vietnam remained high at over US$36.0 per ton during 2019 driven by the shortage of supply and higher purchases from China market, triggering Bangladesh buyers to source clinker from other alternative markets such as Thailand, Pakistan, etc.
Despite the surplus situation, private cement manufacturers in Vietnam keep developing new facilities in the upcoming years.
Figure 2: Projected cement designed capacity in Vietnam, mn tons p.a.

Source: FiinResearch, Vietnam Cement Market Report 2020
The designed capacity of Vietnam cement industry is expected to surge in the next 4 years thanks to the aggressive expansion by local private players including Tan Thang, Thanh Thang, Long Thanh, and Vissai. Especially, the year 2021 is expected to witness a significant increase in cement supply sources thanks to the completion of 5 large projects.
The majority of new facilities will be developed in the Central and the North regions to capitalize on the abundant supply of limestones and clays. As the local cement market records the oversupply, it seems that these players (except for Fico-YTL & Manh Binh) are targeting at export markets.
Vietnam cement industry is forecasted to keep oversupply status until 2030.
FiinResearch forecasts domestic cement sales volume to increase by 1% in 2020 & follow CAGR 2021-30 of 4.0% thanks to the recovery of infrastructure development, residential and commercial & industrial real estate segments in Vietnam.
Figure 3: Projected cement demand and supply in Vietnam, mn tons

Source: FiinResearch, Vietnam Cement Market Report 2020
Vietnam cement market continues being hit by COVID-19 in the first half of 2020.
The outbreak of COVID-19 in the World & Vietnam hit the cement industry in the first half of 2020. Cement demand is expected to be slowed as countries implement various levels of isolation and quarantine leading to reduced residential demand for buildings directly and as workers are required to stay at homes. Particularly, Vietnam began social distancing in 14 days, from 1 April onward, resulting in the suspension of construction of residential, commercial and hospitality projects in big cities. In fact, domestic sales of cement recorded a y-o-y decline by 5% while total clinker & cement export volume reached 6.6 million tons for the first three months of 2020, posting a sharp decrease by 17% compared to the same period last year.
As a response to the negative impact of COVID-19,  the Government will provide the credit stimulus package of VND250 trillion (US$10.8bn) & fiscal stimulus package of VND30 trillion (US$1.3bn) to reduce to the negative impact of Covid-19 on the economy and support the economic recovery after the disease outbreak. In addition, the Government commits to boosting the public investment disbursement in 2020. On 12 March 2020, the Government agreed, in principle, to convert 3 North-South expressway projects which are initially planned to be executed under PPP model to public investment model to accelerate public fund disbursement and support economic growth.
FiinResearch assesses the domestic cement market with a moderate outlook thanks to the Gov's commitment to boost the stimulus public investment packages in 2020 to reduce the COVID 19 impacts on the economy, as well as expected improvement in residential real estate, launches in the second half of the year thanks to the support from the local authorities to accelerate the licensing process as well as to solve other legal difficulties faced by property developers. Meanwhile, export cement markets are assessed with a negative outlook due to limited demand from key export markets, especially for China, Bangladesh, and Philippines.
More information, as well as the table of contents, report preview, and contact person, can be found HERE